Information Security Systems and More for the Entertainment Industry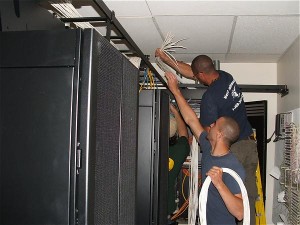 NetQ Multimedia focuses on delivering complete, innovative cabling solutions to many industries, including the entertainment industry. Some of our specialties include
Structured / Premises Cabling Systems
Fiber optics and copper applications
Add-ons, moves, and upgrades
Certification and Testing
Project Management
Disaster Recovery
Cell Phone and wireless network enhancement (DAS)
General and Information Security Systems
NetQ Multimedia is your one-stop shop for all network and telecommunication needs, whether you're in the private or public sector.  From Ethernet cabling, to DAS and security systems, NetQ Multimedia has been installing robust systems since the mid 1980's.
Our Expertise
NetQ Multimedia has served the New Jersey / Pennsylvania / Delaware region area since 1985, starting as a contractor for computer re-sellers such as IBM and Dell. Our satisfied clients continued to recommend more business our way, and before we knew it, we were working with a large variety of entities in vastly diverse industries. Each of these companies or government agencies had their own regulations, tight schedules, and requirements for manufacturer specifications in their equipment. This is what enabled NetQ Multimedia to gain an impressive base of expertise working with all major hardware manufacturers. Besides the training and experience we acquired, NetQ Multimedia also became a certified provider for most manufacturers. This enables us to provide extended warranties, which means an extra promise of  performance for 5-25 extra years! In many cases that meant double the warranty on your cables- whether traditional copper based twisted pair or fiber optic- all telephone systems, security equipment, and more.
NetQ Multimedia was awarded its first state contract in 1999 for "Telecommunications Equipment, Wired" and since then we've been a proud provider of equipment and services for many state, county, and municipal agencies. Government regulations have changed more than a few times since 1999 and NetQ Multimedia has experience working with all systems, old and new. We have no problem adapting to our methodology or contracts to comply with government regulations, so if you're a government agency or a private entertainment company, rest assured that we are accustomed to operating according to the most stringent safety rules and regulations.
Structured Cable Systems for the Entertainment Industry

NetQ Multimedia resolves communication hurdles faced by private and government sectors. The technical intricacies surrounding cabling, telecommunications, and information security are what we deal with every day. We have a passion for organizing outdated chaos, or installing a well-planned brand new cable plant.  Many of our clients made it a point to keep the door to the equipment closet or data center closed, and called NetQ Multimedia to address any technical issues that ever arise. Part of our reputation is our availability to bid on, install or maintain your project as quickly as possible.
We know that structured cabling services, security systems, and high-speed connections are especially important in the entertainment industry. Systems such as DAS and video surveillance can ensure that dead-zones are a thing of the past when streaming music or video, while keeping your artists safe with round-the-clock eyes. Additionally, information security is a necessity in the industry; to prevent hackers from pirating your work. NetQ Multimedia is experienced with our services in the entertainment industry, and we accept unique challenges. Bring your telecommunications and multimedia issues to us; it's what we do. We will gladly update your systems with the newest cabling technology and put you ahead of your competition.
Project Management and Data Structure Design
Our technicians are specialists in designing highly functional communication channels that achieve your specific goals for data routing and cabling structures. We'll advise you on the latest technology and placement options- costs and benefits. If you are considering using Cat 5 or Cat 5e cables, or wondering about the new Cat 6 Cable, you'll hear our specialists share the pros and cons of each, plus fiber optic or wireless solutions. Need to use certain manufacturers? No problem! Our technicians are familiar with just about all current manufacturers and the interoperability of the various parts.
NetQ Multimedia works well with stringent deadlines and can even provide you a go-live date and time so you can plan accordingly. Besides developing and implementing structured cabling systems, we develop backup plans for disaster recovery.
Questions?
Call NetQ Multimedia today and let's talk about how we can help your entertainment organization succeed by handling all your background cabling and communications technology. We think you'll appreciate NetQ's customer service, we're not satisfied until you are. Our specialists are ready to assist you with any questions you might have.